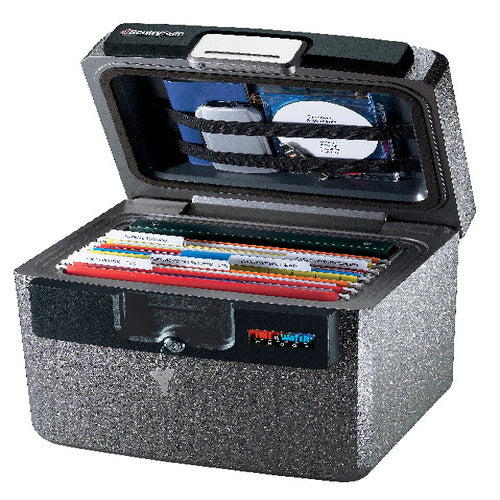 Sentry® Safe HD4100 Fire/Water File, .65 cu. ft.
The Sentry®Safe HD4100 holds up to 40 standard hanging folders making it the ideal storage solution for your important family or business documents. In-lid organization keeps frequently accessed items such as passports, check books and digital media within easy reach. Complete with ETL Verified flood protection and UL Classified fire protection to provide true peace-of-mind for your irreplaceable valuables.
Fire Protection: UL Classified to protect your valuables in a fire for a 1/2 hour up to 1550°F (843°C)
Water Protection: ETL Verified to protect your valuable items from flood damage up to 72 hours
Security Protection: Privacy key lock deters unwanted viewers or children from accessing the contents of the safe. These safes provide basic protection and are not intended for tool attacks
Privacy Key Lock: Our most standard option and the simplest way to secure your valuables. Typically accompanied by a spare for convenience
Digital Media Protection: Protect tablets, phones, external hard drives, memory cards, USB drives, CDs, DVDs and other electronic storage devices
Accomoodates Hanging Files: Keep important files like medical records, business records, financial paperwork and more organized and protected. (Hanging Files not included)
In-Lid Organizer: For small valuables like passports, extra keys or media files that you want to access quickly, this storage section makes these items readily available.